Matica ID card printers
Print reliably with Matica ID card printers from ID Supplies
ID Supplies is now proud to offer customers Matica Technologies' range, which are known as the best and most reliable retransfer ID card printers on the market. Matica, formerly known as EDI, has four printer models that are each designed for organisations with different ID needs.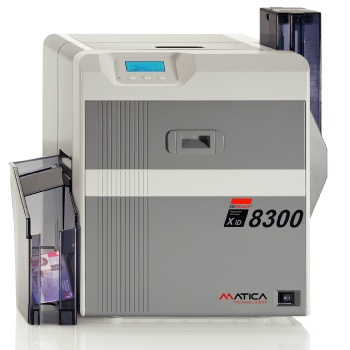 When buying a Matica printer through ID Supplies, customers will also receive our service guarantee, which consists of three things:
Free yearly basic service for the life of the products warranty;

Free standard service prior to the warranty period expiry;

Free technical support for the product.
ID Supplies is headquartered in New South Wales, but we also offer service across Australia, including in Melbourne, Brisbane, Darwin, Adelaide and Perth.
Here are some answers to frequently asked questions about ID card printers, as well as a closer look at the specifications of each Matica model.
Why use Matica plastic ID card printers?
Matica machines are higher quality than most other machines on the market, meaning they tend to last longer and work better. This, combined with our service guarantee for the life of the warranty, means a Matica printer will be a great investment in the long run.
As you will see further on, the Matica range is also uniquely versatile, offering customers a range of customisable options and allowing for a large amount of flexibility.
Can I save money with in-house plastic ID card printing?
Yes - if your organisation or government entity brings on a large number of new employees every year, printing IDs in-house will likely be less expensive than renting a printer every time a new batch of workers comes in.
Are plastic card printers easy to use?
In addition to coming with a comprehensive instruction manual, the Matica printers are straightforward machines with LCD displays that show easy-to-understand instructions. If in need of extra help, customers can reach out to our technical support team.
Are plastic card printers compatible with windows?
Yes - the Matica range is compatible with Windows XP, 7, 8 and 10.
The Matica Range
The four Matica models carried by ID Supplies are great options for customers with high printing needs. See the technical specifications below.
The XID8100
Entry-level printer - perfect for corporations or government entities that want to quickly and reliably print in-house.

Prints up to 102 single-sided cards per hour - can be customised to print double-sided.

300 dots per inch (dpi) resolution for crisp images.

Can print on PVC, ABS, PET, hybrid card constructions and even Polycarbonate.

Front-loading system for easy supply changing.